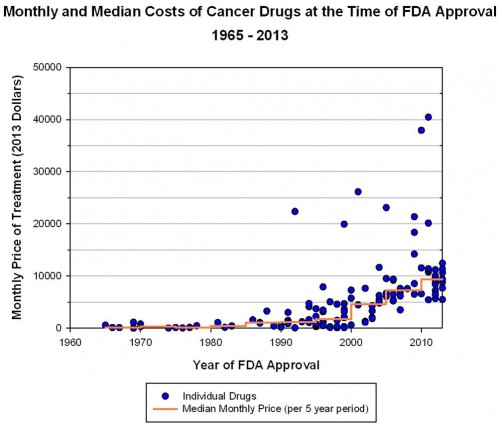 Mainstream media stories about prescription drug pricing are common. A simple Google search for "prescription drug price increases" yields 37.7 million results. A recent story highlighted that Americans, despite representing only 5% of the world's population, manage to consume 50% of the world's prescription drug supply. What's going on?
The New York Times recently published a story about asthma inhalers. Drug companies have sharply increased prices in the U.S. for inhalers and drugs that have been on the market for years. A key driver was an EPA requirement that manufacturers reformulate their inhalers to eliminate particularly dangerous chlorofluorocarbons, even though the amounts used are quite small. Reformulation required new FDA approvals and in some cases resulted in new patents. Because the U.S., in contrast with most other developed countries, relies on market competition for price regulation, the drug companies were able to achieve massive price increases for drugs that often have no direct competition or equivalents.
In other instances, drug companies with drugs coming off patent were able to keep their products as prescription medications and avoid moving to over the counter (OTC) status by paying off generic competitors. This practice has recently been the subject of much litigation but has not been settled by the U.S. Supreme Court.
Additionally, pricing for new drugs, particularly cancer treatments, are breathtakingly high. Here's an excerpt from an article in the Washington Post:
The average monthly price of cancer drugs has doubled over the past 10 years, from about $5,000 to more than $10,000. Of the 12 new cancer drugs approved by the Food and Drug Administration last year, 11 were priced above $100,000 annually. Yet only three were found to improve patient survival rates and, of these, two increased survival by less than two months.
The drug prices and increases are out of reach to anyone without very good medical insurance. In fact, medical bankruptcy is the most common form of bankruptcy in the U.S. The prices for the same drugs are much lower in other countries, meaning that we in the U.S. are effectively subsidizing the rest of the world's pharmaceutical prices.
So we have reformulation of existing products with a huge price increase, avoidance of transition to generic status and price reductions by paying off generics manufacturers, and cancer drugs that cost well into six figures for a year's worth of treatment but haven't been proven to extend life (or extend it insignificantly). Not to mention successfully lobbying the federal government to prevent Medicare from being able to negotiate volume-based price reductions. There's innovation here, but not much on the clinical side. The innovation is in working every angle to keep prices high and raise them even higher.
And we wonder why our healthcare costs are the highest in the world.
Read more:
The Soaring Cost of a Simple Breath | The New York Times
Chart: Cost of cancer drugs | The Incidental Economist.
The Rising Costs of Cancer Drugs | New York Magazine.