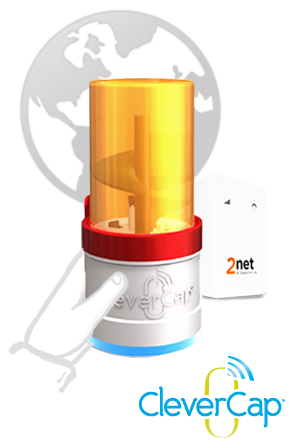 Patients are terrible at taking prescription medications. A couple of startups have developed devices that aim to solve the problem, but with wildly different solutions: The Clever Bottle vs. the Smart Pill.
A recent study by WHO estimated that 50% of patients with chronic illnesses don't take their drugs as prescribed. This behavior increases deaths and complications. Further, it costs about $100 billion per year in avoidable healthcare costs.
Medication compliance is a problem that has been around for thousands of years. In fact, a paper in The Mayo Clinic Proceedings included a quote from Hippocrates who lived and practiced medicine more than two thousand years ago:
Keep a watch…on the faults of the patients, which often make them lie about the taking of things prescribed. For through not taking disagreeable drinks, purgative or other, they sometimes die.
Hippocrates, Decorum
Ensuring that patients take their medications seems to be an unglamorous approach to a big and costly healthcare problem. It's also a potentially lucrative market. While neither of the solutions would be considered simple or low tech by most people, they are direct in how they address the issue.
The Clever Cap pill bottle is something most of us might say, "hey, I thought of that!" The people at Compliance Meds Technologies in south Florida took the next step and developed their idea. The Clever Cap fits on standard pill bottles, dispenses only the prescribed amount of medication, keeps track of medications dispensed, and communicates wirelessly with mobile devices or with a special hub. The hub is a device made by Qualcomm in their attempt to cash in on the vast potential in mobile and digital health data.
CleverCap can also be reprogrammed and reused. The device is reported to work even without a wireless connection. It's not clear what happens if the batteries die. What the CleverCap can't do is know if the patient really swallowed the pills.
The Smart Pill, branded as the Ingestion Event Marker or IEM by its developer, Proteus Digital Health of Redwood City, California, aims to embed a microchip in each pill. The chip is activated and powered by stomach acid and apparently passes harmlessly through the digestive system and is eliminated. The chip communicates time and date ingested as well as physiological and behavioral patient data to a wrist patch worn by the patient.
Very high tech. Indeed, the company has partnerships with Novartis, Medtronic, St. Jude Medical, and Oracle among others. The company has raised a lot of money including $62.5 million in "the second closing of its F round." Proteus has received FDA marketing clearance, a de novo 510(k) for its technology. It remains to be seen if drug manufacturers will need additional FDA clearance to use the technology with their pharmaceuticals.
The Smart Pill definitely knows if the patient swallowed the pills. The big question is whether patients want this much technology in their bodies vs. the less intrusive CleverCap. My guess is that there is probably room for both solutions in this potentially large emerging market.
Takeaways: There are unsolved problems and unmet needs everywhere in healthcare. We've all daydreamed about things like smart pills and clever caps. Keep an open mind and perhaps you will recognize a new opportunity.
Both of these technologies are potentially disruptive and they both make use of the latest information technology including cloud analytics and reporting. The CleverCap seems to have the quickest path to market but the Smart Pill has all sorts of other potential capabilities and that's probably why the company is well-funded and flush with partners. Both strategies seem viable and there's plenty of room in the market for their innovations and more.
Read more:
CleverCap Pill Bottle Connects to Wifi, Dispenses Only as Directed, Uploads To The Cloud | Singularity Hub.
The Pills Have Eyes: Microchipped Medicine Is Coming | Singularity Hub.